Legal Defense for Your Future
Proudly Representing Clients in the Charlottesville area
CONTACT US TODAY
What Qualifies as Solicitation of a Minor?
Nov. 15, 2022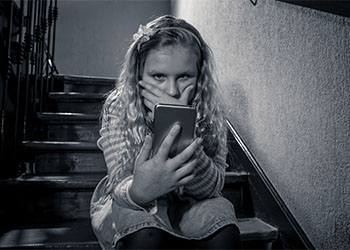 In the Commonwealth of Virginia, enticing or luring a minor to engage in illegal sexual activity is a serious offense that is often punished severely. A defendant convicted of online solicitation or sexual solicitation of a minor may face devastating penalties and other immediate and life-long consequences. Also, they may be asked to register as a sex offender in the state upon their release.
If you have been accused of or charged with solicitation of a minor, it's important to understand your rights and options. With your liberty, future, and every other aspect of your life in possible jeopardy, you may feel extremely terrified and confused. A dependable Virginia criminal defense attorney can enlighten you about what qualifies as a sexual solicitation of a minor and help build your best defense strategy.
At Bryan J. Jones, LLC, we're dedicated to offering experienced legal guidance and protecting individuals wrongfully charged with solicitation of a minor from the worst possible punishments. Our trusted legal team will investigate every aspect of your case and craft a solid defense strategy to help fight your charges in pursuit of the best available outcome. We're proud to represent clients across Charlottesville and Waynesboro, Virginia.
Solicitation of a Minor in Virginia
Solicitation of a minor occurs when a person, while interacting or communicating with a minor, asks the minor to participate in unlawful sexual acts.
According to Virginia law, it is illegal for a person to use a communications system, computers, computer networks, bulletin boards, or any other electronic means to entice, persuade, allure, or invite a minor (any person younger than 18 years) to participate in sexual activity.
Online solicitation or sexual solicitation of a minor in Virginia is a felony offense that may attract devastating penalties.
Online Solicitation With Lewd Intent
Under Virginia law, it is unlawful for an adult to use a communications system, including bulletin boards, computers, or computer networks, or any other electronic means, to solicit, with lascivious intent, any person he knows or has reason to believe is a child below 18 years to knowingly and intentionally:
Expose their sexual or genital parts to any child to whom they're not legally married

Propose that the child expose his or her sexual or genital parts to such a person

Propose that the child should feel or fondle his or her own sexual or genital parts or the sexual or genital parts of the other person

Propose that the child performs an act of sexual intercourse, fellatio, cunnilingus, anal intercourse, or any unlawful sexual act

Persuade, entice, allure, or invite the minor into any house, room, vehicle, or other places for the purpose of engaging in an unlawful sexual act
If you or someone you know has recently been arrested or indicted for sexual solicitation of a minor, you need to get in touch with a reliable criminal defense attorney immediately. Your legal counsel can conduct a thorough investigation and enlighten you about the nature of your charges.
Possible Penalties
In the Commonwealth of Virginia, all crimes targeting children – including the sexual solicitation of a minor – are prosecuted to an extreme degree. Depending on your unique circumstances, a criminal conviction could result in any of these penalties and consequences:
Lengthy time in prison (ranging from months, years, or decades)

Massive fines and court fees

A criminal record/history

Loss of your rights to carry or possess a firearm

Lifelong registration as a sex offender

Increased difficulty in securing employment, education opportunities, or housing

Loss of voting rights

Inability to receive public benefits

Loss of scholarships or inability to enroll in some educational institutions

Loss of personal freedom and social prospects

Deterioration of professional and personal relationships
A strategic Virginia sex crimes defense lawyer can review the details of your case comprehensively and explore possible legal defenses. These defenses may be able to help you avoid a criminal conviction and the consequences involved.
Possible Defenses
When facing false solicitation with a minor accusations, your attorney can fight your charges using any of these legal defenses:
False allegations

Freedom of speech

Legal conduct

Entrapment

No knowledge that the victim was a minor

The police officer posing as a minor failed to follow the law

Non-sexual motivation for the meeting

Mistaken identity or identity theft

Good faith belief of age

Statutes of limitations
A knowledgeable attorney can identify your possible legal defenses, fight aggressively to uphold your legal rights, and ensure that you get a fair hearing in every phase of the legal proceedings.
How Skilled Criminal Defense Attorneys Can Help
Defending your sex crimes charges without experienced representation and guidance can increase your risks of suffering the maximum penalties. Unfortunately, a criminal conviction for online solicitation could potentially jeopardize your quality of life, personal reputation, liberty, career, and entire future. Therefore, when arrested and charged with sexual solicitation of a minor, retaining an aggressive and highly-skilled criminal defense attorney is imperative for detailed guidance.
At Bryan J. Jones, LLC, our attorneys have devoted their careers to handling criminal cases and defending clients facing sex crime charges. Using our extensive knowledge, we can help you navigate the Virginia criminal justice system and craft the best legal defenses for your case. Our reliable attorneys will represent you vigorously in every stage of the legal process and attempt to get the prosecutor to dismiss or ultimately drop the charges against you.
Facing any type of sex crime charge can be frightening. Don't face them alone. Contact Bryan J. Jones, LLC, today to schedule a simple case assessment with seasoned sex crimes defense attorneys. Our knowledgeable legal team can offer you the aggressive representation and guidance you need for your case. We're proud to represent clients across Charlottesville and Waynesboro, Virginia, as well as throughout Fluvanna County, Greene County, Albemarle County, Orange County, Nelson County, and Louisa County.